Have you undergone a BMT transplant? Make sure to intake diet rich in calcium, phosphorous, magnesium and ensure properhygienic eating habits. These food items will speed up your recovery process improving the quality of life you live.
Have you undergone a BMT transplant? Make sure to intake diet rich in calcium, phosphorous, magnesium and ensure properhygienic eating habits. These food items will speed up your recovery process improving the quality of life you live.
The procedure of recovery even from a small disease is very gradual. There is a lot of things that a person should consider being in the recovery stage of any chronic condition. The right diet is the key to success of the transplant. If a person intakes right kind of diet it helps his body to fight against the infections and early repair of the tissues damaged by the treatment methods of chemotherapy and radiation therapy.
There are specific dietary requirements of Stem cell transplantation in India that will assist the immune system of a person to regenerate properly. Very often when a person undergoes a surgery he may have the feeling of nausea, vomiting, loss of appetite, vomiting, and taste of change etc. Due to which following a nutritional diet may sound impossible. However, as we have discussed above it is of utmost importance for a person to intake healthy diet. Here we give a list of things that you include and exclude from your diet.
What is bone marrow transplant?
To begin let us first understand what exactly is bone marrow transplant? A bone marrow transplant is crucial surgical procedure undertaken to replace the diseased bone marrow of the patient with the healthy bone marrow of the donor. The patient is prepared for the BMT treatment by giving them the high doses of chemotherapy.
In this process, the patient receives the healthy bone marrow producing the healthy red blood cells, white blood cells and platelets. Let us take a look the ideal diet.
Diet to be followed
Below we have listed out the foods requirements of your body after you underwent the bone marrow transplant treatment-
General tips
Intake properly washed fresh vegetables and fruits.
Drive out raw meat, eggs, and fish from your diet. Before consuming them make sure to cook them till the last stage.
Ban the foods from your diet that are rotten.
Make sure to avoid sharing with your family and friends.
Only consume pasteurized dairy products.
For your diet one essential thing that must be noted is cleanliness. Make sure that sink, counters, handles, cutting boards and cutting utensils are properly washed.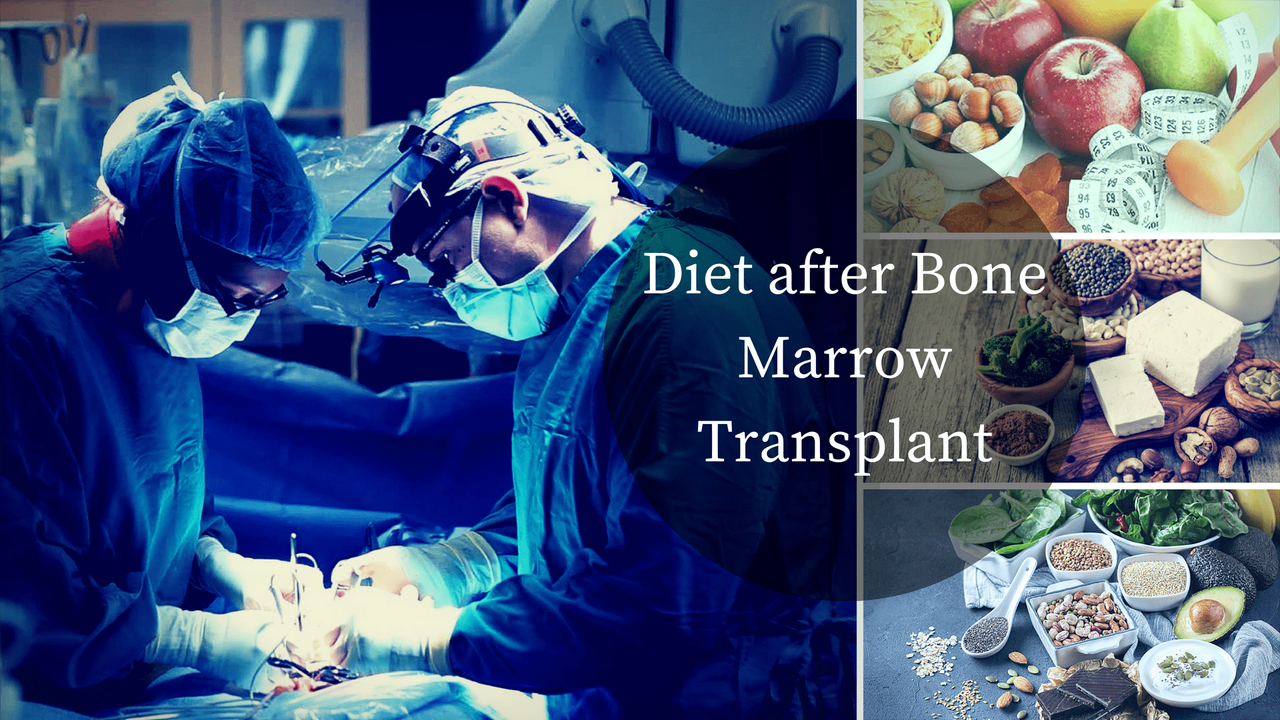 A diet rich in calcium and phosphorous
Calcium and Phosphorous both are very essential to maintain the bone strength of the patient. Some of the medication taken in BMT treatment may reduce their level in the body of the person. Moreover after this transplant the additional amount of calcium and phosphorous may be required thus we recommend you to include following things in your diet-
Calcium-rich food
Cream (pasteurized)
Milk (skim, low-fat, whole)
Natural cheese, processed cheese (pre-packaged)
Cottage cheese, ricotta cheese
Yogurt (regular, frozen or Greek)
Pudding, custard
Ice cream or ice milk
Cream soup
Buttermilk
Evaporated milk
Powdered milk
Food rich in both calcium and phosphorous
Soy Milk
calcium-enriched fruit juice
Roasted almonds
Dried peas and beans (cooked thoroughly)
Tofu (calcium enriched, cooked thoroughly)
Greens (kale, collard, mustard, turnip)
Canned salmon with soft bones
Bok Choy
Calcium-fortified cereal
Bok choy
Spinach
Sardines
Potassium
It is important to maintain the balance of fluid in your body. Potassium supports the cell integrity facilitates the making of protein, and assists in the transmission of nerve impulses and the contraction of the heart and other muscles.
Some of the fruits and Vegetables include
Apricots
Avocados
Bananas
Dates, figs
Honeydew/cantaloupe
Kiwi
Nectarines
Oranges
Orange Juice
Peaches
Prunes
Prune juice
Raisins
Artichokes
Avocado
Bamboo shoots
Beets
Brussels sprouts
Chard
Chickpeas
Dried beans
Escarole
Magnesium
In order to boost the immune system of the body it is important to consume food rich in Magnesium. It is a mineral that helps in making the proteins for the body and maintaining a transmission of nerve impulses, and normal muscular contraction. Some of the important sources of magnesium include-
Chocolate
Halibut
Legumes
Leafy green vegetables
Meat
Milk
Nuts
Peanut butter
Spinach
Tofu
Tuna
Whole grain cereal
Alcohol
It is highly advisable for the patients to completely avoid the intake of alcohol. This is because the medications, high doses of chemotherapy and transplant procedure have some serious side effect on the patient liver. Since the alcohol contributes highly in damaging the liver, adequate steps must be taken to reduce its consumption.
Conclusion
To sum up we can just say that if you desire to get back to your normal life you must follow this diet after bone marrow transplant.