People all over the world are aware of the seriousness of rabies. However, there is not enough information available about the treatment or prevention of this condition. With this article, we will discuss the ways in which this severe condition can be treated or prevented. Make sure to go through this carefully to protect yourself and your loved ones.
"Raghav the Sachin Tendulkar of the colony while playing cricket suddenly felt something clutching to his leg. Just when he looked down he realized that a dog was biting him severely. A neighbor came to his rescue and he was straightforwardly taken to the doctor. His parents were very worried because Raghav was not vaccinated for rabies. The doctor told them that Raghav is safe because he was not affected by rabies. However, in order to prevent any problems in the future, they accentuated upon the importance of getting vaccinated for rabies."
We all know that rabies is a severe condition with some serious adverse impacts. But do you know it can take your life? In the researches, it has been found that around the world, rabies kills more than 59,000 people every year that is nearly one death every nine minutes. So now you may realize that it can actually be life-threatening for you. With such a huge population of dogs and other animals around the corner, every Raghav playing in the street or each one of us moving in the streets are at a risk of developing this condition. To enable people in getting familiar with this disease with this blog we take a look at the various prevention and treatments of rabies.
What is Rabies?
Rabies is a kind of viral infection that can spread with the bite of an infected animal. If this condition remains untreated for a long period of time it can prove to be incurable for the affected person. Apart from an animal bite, it can be transmitted through saliva touching on an open wound or touching the mucous membranes. This virus can affect the body of the person in two ways either by entering the peripheral nervous system and attacking the brain or by replication of the muscle tissues and enter the nervous system through the neuromuscular junctions.
"Prevention is always better than cure" going by this popular saying we will first take a look at the various methods through which we can protect our body from this life-threatening condition.
Also Read : Types, Symptoms and Causes Rabies
Rabies Prevention Options
When there is a possibility of preventing any condition so what's the harm in giving it a try. There are tried and tested methods that can be adopted by individuals as well as government to prevent and control this condition from spreading to people. Here we have outlined some of these steps that shall be taken-
All the domestic and street pets must be vaccinated with anti-rabies vaccines.

Spreading of education and information in this regard to the public at large.

Putting a ban or restriction on the import of animals from certain countries.

Stay away from the wild animals. The wild animals affected from rabies are less cautious and are more likely to approach people than normal dogs.

Keep a watch on bats and make sure to keep them out of their home.

If there are a lot of wild animals roaming around take time to report to the local authorities.
The prevention methods are useful if you are not suffering from rabies. However, when a person is already suffering from it only treatment methods can be useful to save his life and improve his quality of life.
Rabies Treatment Methods
Rabies is a severe condition that is required to be treated as soon as possible. There are two types of treatment methods that can be used depending upon the extent to which this disease has spread. Here are the methods that can be used-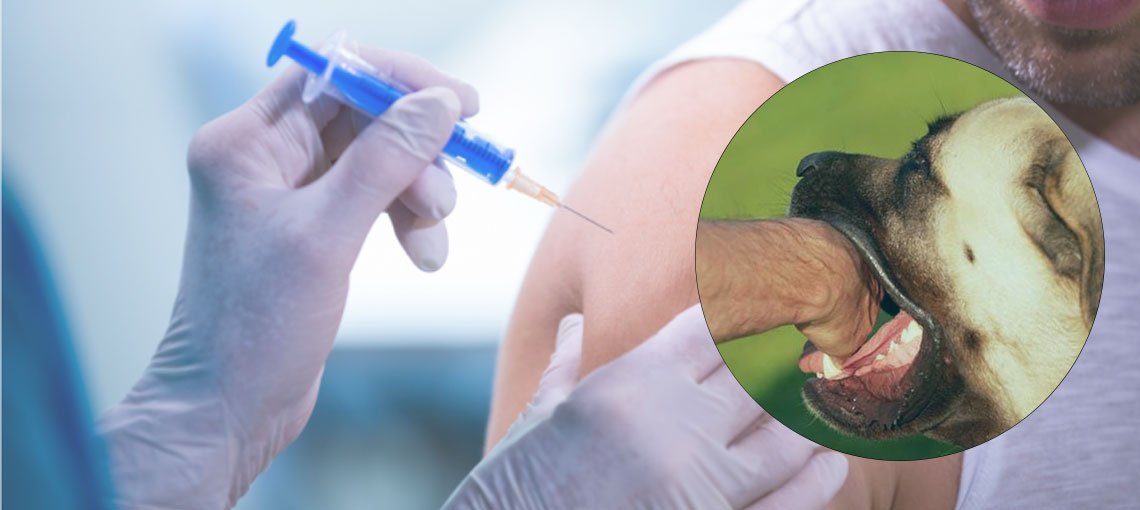 Prophylactic Treatment- Just after the patient is bitten by the infected animal it is important to perform prophylactic treatment to prevent the virus from infecting the patient and preventing it from spreading further. The procedure of this treatment includes the following-
Simply washing the wound with clean water.

Then cleaning it antiseptic, alcohol or iodine.

A simple dressing without stitches.

Then the doctor will give the timely injections of rabies immunoglobulin and rabies vaccine to neutralize the virus and slow down it's spreading throughout the body.

Further, the complete series of rabies vaccination shall be provided to the patient.
Symptomatic Treatment- In cases, the appropriate and timely treatment is not given to the patient, the individual may experience symptoms such as hyperactivity and fear of water or air. At this stage there is no cure for rabies thus this treatment is just used to improve the quality of life by keeping patients comfortable. In this method usually, tranquilizers and sedatives are often used to minimize physical pain.